Looking for a better way to do quesadillas? Check out this ingenious spring recipe for making your quesadillas stick together better so they're easier to eat around the campsite! Get the full recipe below, adapted from one on CountryLiving.com.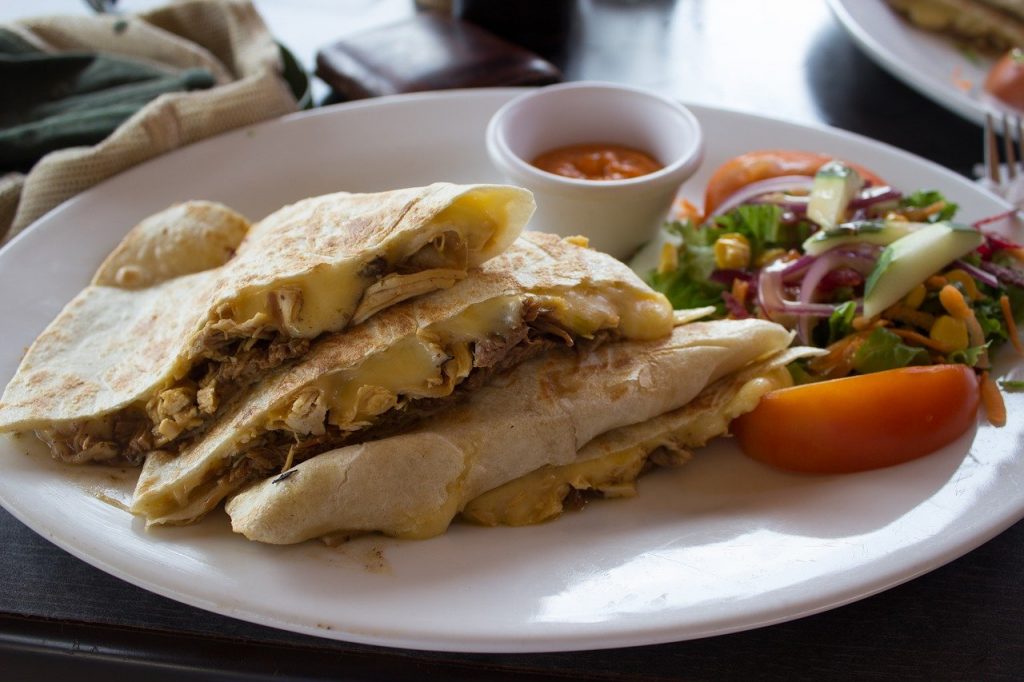 Ingredients:
4 tsp. all-purpose flour
2 tsp. chili powder
1/2 c. chicken stock
1/2 red bell pepper, chopped
4 oz. sliced mushrooms
6 oz. shredded cooked chicken breasts (about 1 1/4 cups)
6 oz. shredded sharp Cheddar cheese (about 1 1/2 cups)
4 large flour tortillas
Toppings like: Pico de Gallo, lime wedges, avocados, and salsa
Instructions:
In a medium saucepan, heat a drizzle of oil over medium heat. Add flour and chili powder, stirring until fragrant, 1-2 minutes. Working in small amounts, drizzle in the stock, whisking until incorporated.
Add chopped bell pepper, mushrooms and chicken to the pot and cook until vegetables are tender, 6-8 minutes.
Remove from the heat and add in the cheese, stirring so that it melts and combines into a thick filling for your tortillas
Lightly brush your tortillas with oil while you heat a skillet over medium heat.
Spread half the cheese chicken and veggies to the tortilla, leaving 1″ clear around the edge. Top with a second tortilla and cook until golden brown, turning once to cook the top tortilla.
Repeat with the second set of tortillas and the remaining filling.
Slice and serve with your favorite toppings like Pico de Gallo, sour cream, guacamole, salsa, or slices of lime.
Wherever your adventures take you, having an RV with the right amenities and features will help you and your family get more out of your vacations. Contact us today to find the perfect floorplan, size, and features for you!